How to store & organize Strobist gels for Speedlites
October 13th, 2010 by Jan
Gels are thin translucent sheets of "plastic" used to alter the color of lights and strobes. They can be used for interesting effects like adding a colored background to a portrait, or to "correct" the lighting when multiple kinds of lights are used. For example, fluorescent lights, incandescent lights and speedlites all operate at different color temperatures. If you make a picture that includes all three, you could get an ugly mix of color-casts on the subject. For example, if you're making a portrait in an office with lots of fluorescent lighting (and aren't overpowering the ambient completely), you should add a "plus green" gel to your strobe so that it matches the color of the ambient fluorescent lighting. They also make gels that go around fluorescent tubes ("minus green") but it's much easier to just gel your flash.

Another frequently used gel is "color temperature orange" (CTO), which is a warming gel. Sometimes the speedlite output can be too cool (blue), which can look unnatural. One example is a portrait at sunset. Many people use a CTO gel when making a portrait at sunset to remove the cool blue from the flash so that it matches the warm ambient light better.
You used to be able to get free gel swatchbooks directly from Rosco but the demand from strobists was too high so they discontinued that program. Now they offer the Strobist Collection, which can be purchased from
or


. These are nice because they don't have the hole punched in them like the ones from the swatchbook. If you'd rather have the full swatchbook, you can buy it from Adorama for about $4. However, if you have a theatrical supply store nearby, give them a call/visit. They'll probably give you some swatchbooks for free. That's what I did and they were happy to get rid of some. The guy there said the manufactures send them so many that they can't get rid of them fast enough. I got several swatchbooks from several companies and chose to use the ones from GamColor because they're longer than the Rosco gels.
I've seen many ways to store/organize gels but this is just how I do it. I use a "business card book" (mine is made by Rolodex) from an office supply store. It's like this one but mine has three slots per page instead of four. It's a bit overkill in that it can store 36 different colored gels (or 72 if stored back-to-back), which is more than most people need but you can cut out the extra pages to reduce some "bulk", or fill them with your own business cards perhaps. Even with all of the pages in tact, it's a pretty slim book and fits into each of my bags nicely. The book measures 4.5″x7.5″ and is only about 1cm thick.
I put three of each gel into each slot because I have multiple speedlites. I also included the info paper behind each set of gels but on some gels it's hard to read what it says. To make identifying them easier, I added labels to the page. I used Illustrator to create the labels then printed them out on glossy sticker paper made for inkjet printers.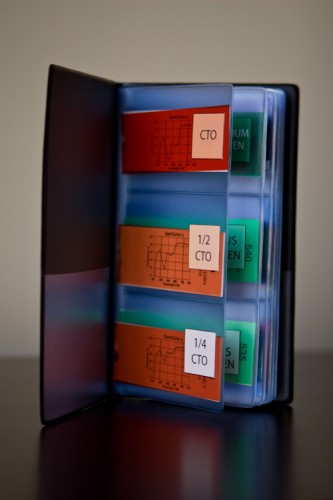 While we're on the subject of gels, here's how I attach them to the flash. I made an L-shaped holder out of Lexan. Craig Colvin details it nicely. I didn't have a "heat strip" so to bend the angles I clamped the lexan in a vice between two pieces of wood and heated it with a heat gun until I could shape each bend, one at a time.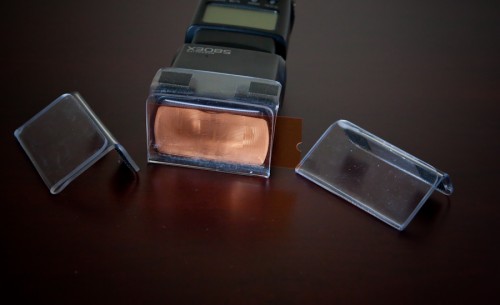 However, if I needed another, I would definitely just purchase one of Craig's from GelHolder.com. It's well worth the $10 considering the time it takes to make one.