DIY SLA Battery Pack for Speedlites
May 6th, 2010 by Jan
When you don't mind packing some extra weight and bulk, sealed lead acid (SLA) battery packs are great. They last forever and recycle the flash very quickly (like fresh AAs). Just be careful when shooting at full power that you don't melt your flash head! I also like that SLA batteries are supposed to be charging when not in use. This means they're always ready to shoot when you are.
Making one is pretty simple if you can drill and solder. See for yourself!

You can go with as large or small of a battery as you want. I went with a PowerSonic PSH-655-FR ($11 each). This is a "high rate discharge" battery and can handle any flash demands you throw at it. I thought this size battery would be the best compromise between size and performance, it has worked out great for me. It is rated at 6 volts, 5.5 Ah and 21 watts per cell. I also got the PowerSonic PSC-61000A-C 6 V – A-C Type charger ($40) and made a cable so that I can charge two battery packs at once. This charger is nice in that it automatically switches to a float charge.
To house the battery, I got a 6″x4″x2″ Project Enclosure from Radio Shack. I wanted the option to power two flashes from one battery so I got two two-pin CB style sockets for the case. I also added a switch and a fuse (5A). Because the pins on the connector are open and exposed (I couldn't find any caps), the switch is to prevent any accidental shorts. The fuse is an extra safety measure in case something shorts the pins while the switch is on. The green thing is just a template I made to mark the enclosures for cutting.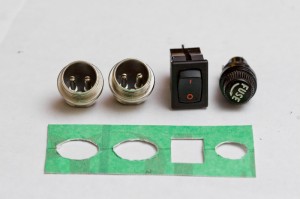 edit: the previous wiring description was incorrect. Thanks, Michael Bass, for pointing that out. My battery packs were wired correctly, just the description was off. That's what I get for rushing…
Wiring it all up is rather simple. Go from the positive battery terminal to lead 1 of the fuse, lead 2 of the fuse to lead 1 of the switch, lead 2 of the switch to pin 1 on both CB connectors. I used a lighted switch so I also had to add a resistor, which I used to pull power from lead 2 on the fuse. Then from the negative battery terminal go to pin 2 on each CB connector (then to the switch light, if you have one).

edit2: Here's a diagram for the visual learners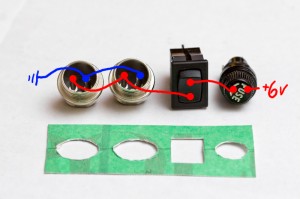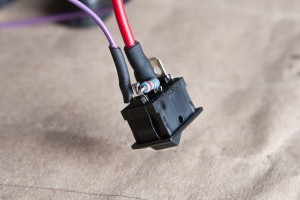 To attach two wires to one prong of the "CB socket" I used a female blade connector backwards: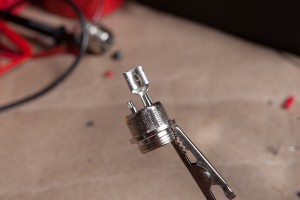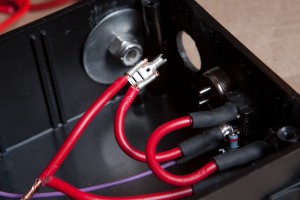 On the sides of the enclosure I attached metal D-rings with clips, which I got from Strapworks.com, my go-to place for webbing and hardware (I love how you can get the metal hardware powdercoated in a variety of colors). I also got some webbing and snaphooks and made a strap so I can either shoulder the battery pack or let it hang from a light stand.
On the inside of the enclosure I had to remove those small "rails" running down the side (they're for holding a PCB) so that the large washer could lie flat. With these D-rings I attach a strap I made that lets the battery pack hang from the swivel bracket handle on the light stand.
Finish product: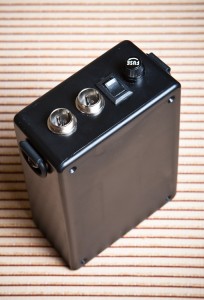 For cables, I ordered Quantum battery pack cables from ebay and cut the ends off so I could use my own. This part is pretty self explanatory. Just make sure you have the right connectors to match the jack on your flash and those on the battery pack, then keep polarity consistent.
Generally, the inside part of the plug below is used for the positive wire while the barrel is the ground. That's how I wired it.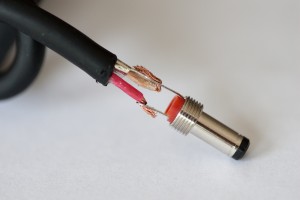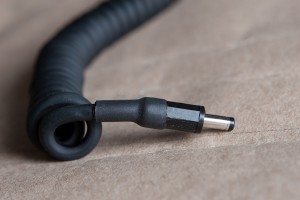 Soldering the wires to the CB style plug was a little more difficult but having a set of "helping hands" really helped…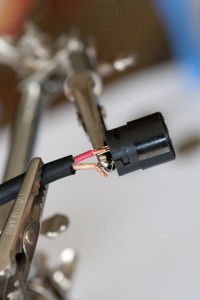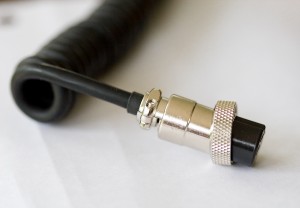 Put the same style CB plugs on the cable for the charger. Since I made two battery packs, I split each terminal on the charger into two leads. I heat-shrinked the joint together and put the wires into expandable braided sleeving.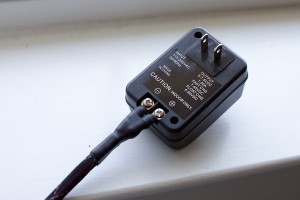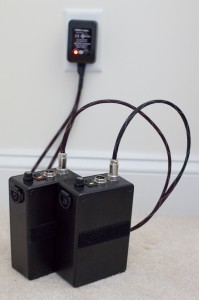 When charging, be sure to flip the switch ON. The loop velcro you see on the front is for a little strap I made that goes around the battery pack and light stand tube. It keeps the battery from swinging around when I need to move the stand.
All in all, it's a relatively low cost project that yields great results. I'm glad I did it!
UPDATE: I've since bypassed the fuse due to blowing many fuses. Flashes pull different currents after firing, so there's no one-size-fits-all fuse. As many have found out, a lower rated fuse will pop constantly, whereas a higher rated fuse won't pop but it also might not do you any good. As long as everything is wired properly and the right charger is used, etc., there shouldn't be any issues. After all, the Al Jacobs Black Box doesn't use a fuse. As with all DIY stuff, try at your own risk, etc…
UPDATE 2: Now that I use Elinchrom strobes, I haven't used these batteries in years so they're for sale! I'd be willing to sell them with the charger, and two speedlites (580, and Promaster FTD 7000M) which have both been wired with a DC jack, and 1/8″ sync jack. I'd also accept a stock 580ex or newer as part of the sale/trade.