Quick, easy and cheap "business cards" — using film
October 1st, 2009 by Jan
I haven't designed a real "business card" yet but I wanted something I could hand out in the meantime to those who ask about my work (I know, I know, my gallery still isn't up…). All I know is that when I finally design one it's going to incorporate spot glossing/UV, which isn't exactly cheap considering 500 is the minimum order quantity, so I don't want to rush it. For now, this'll do.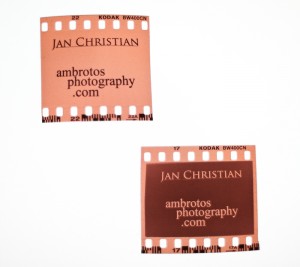 To make the images I just used illustrator to create the text and background, then simply took a picture of my display. Remember, these are negatives so if you want black text on your "business card," use white on the screen.
If you wanted to get fancy, and incorporate color, you could even use slide film. Developing may take longer though, unless you can get it done locally (most photo labs have to send out anything that isn't C-41).
I had the film processed at Walmart, which was $1.76 (no prints/CD) and it only took 30 minutes.
Quick, cheap, effective!
Keeping them in a film canister protects them and makes dispensing them quite easy. Stashing a few in your wallet works equally well.